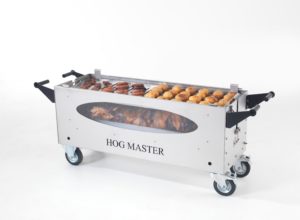 Our hog roast and spit roast machines are very easy to use and come with an easy to follow set of instructions. So next time you feel like impressing your friends and family and playing master chef why not try hiring one of our tried and tested top of the range hog roast machines for the weekend.
We'll help you to effortlessly expand your menu with a little help from our expertly designed range of hog roast machine accessories. We know that one of the questions you have likely asked yourself is "what tasty sides and other finger foods can I serve with the hog roast?". We have the answer. Browse our accessories range and consider the possibilities.
BBQ Accessory
The BBQ accessory is hugely popular. Simple to fit to the machine. Simple to use. And excellent results every time. Keep the crowds fed between roasts with burgers, hotdogs, sausages, fried onions, and much more.
Chicken Spit Accessory
The chicken spit accessory offers tremendous versatility. Capable of cooking up to 36 large chickens, the spit can also be used for sides of beef, pork legs, and even large pieces of fish. Speak to us today for top ideas on how to make the most of this multi-purpose accessory.

If you think our Hog Roast machines are only for larger events, then you'd be mistaken as our machines can serve from 10 – 300 people, perfect for small intimate events and larger corporate ones!
Single oven providing up to 150 servings – Forming the mainstay of our hog roast catering enterprise, these powerful machines can handle up to 75 kilos of meat – that's up to 150 servings per roast.
Double oven providing up to 300 servings – These huge machines are ideal for fetes and festivals – or perhaps a large scale wedding. Cooking up to two 65 kilo pigs at the same time, our double oven machines provide up to 300 servings per roast.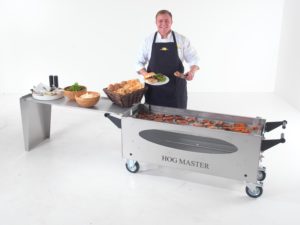 Hiring a hog roast machine could not be easier. Simply give us a call and we will deliver the machine with a bottle of gas ready to go, direct to your venue. The hog roast machine can be delivered with or without a fully prepared pig the choice is yours, take advantage of our carefully selected free range pigs or arrange your own pig locally.
We offer on-site tutorials to ensure that you are comfortable using the equipment by yourself. If you'd like to operate the machine and any of your chosen accessories yourself, simply let us know and we will make the necessary arrangements to help you get set up! We will then collect the machine after the event either clean or dirty again the choice is yours, there is an extra cost for sending the machine back dirty. If you have several events planned over a longer period of time again no problem we can arrange for a hog roast machine hire for as long as you require it.