Greetings from everyone here at Hog Roast Northwich. We exist to provide you with a standout hog roast catering experience. If you're considering hosting your next event or special celebration in Northwich – or anywhere throughout Cheshire – we can help you to provide your guests with serving after serving of delicious and aromatic hog roast. But what's so special about Northwich? Why come to our little Cheshire town? Let's find out…
Hog Roast Northwich – Tailoring Your Hog Roast Experience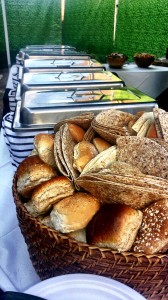 We understand that you may not have previously had the pleasure of delicious and aromatic hog roast catering. That means you probably have many questions about what exactly is included in our professional indoor or outdoor dining service. What about serving tables, for example. And gazebos. What about plates, cutlery, and when does the machine have to be returned? You could also be wondering about the menu and whether you can provide you own ingredients – indeed you may wish to chef the event yourself.
We will work with you in providing your guests with a standout hog roast catering experience. Whatever your requests and preferences, we will always go the extra mile in delivering an unbeatable hog roast service. Speak to us today. Hog Roast Northwich is ready to place one of our highly polished and eye-catching hog roast machines at the centre of your mealtime plans, from small and medium sized gatherings to larger scale festivals and fetes, we'll make sure that you're fully kitted out and prepared to offer the crowds a hog roast experience that will last long in the memory for all the right reasons.
Why We Chose Hog Roast Northwich – What's Here?
The idyllic scenery of historic Northwich cannot be understated. Situated in the heart of the Cheshire plains, where two rivers meet, Northwich's natural beauty includes Marbury Country Park – a stunning mix of parkland avenues and woodland complete with an outdoor swimming pool and a cafe. If it's the outdoors you're after, however, the show stopping calendar event of the year in Northwich is undoubtedly the two-to-four day long Northwich Festival. There's family fun days with a fairground and refreshments, there's live music with a licensed bar, and a huge 'scooter' motorbike meet.
Enjoy something more theatrical? The Harlequin Theatre puts on six full length plays each year hosted in the troop's intimate but fully modernised venue. There's also the popular Anderton Boat Lift – a 50 foot vertical boat lift linking the River Weaver to the Trent and Mersey Canal. Nicknamed 'One of the Seven Wonders of the Waterways', the boat lift was restored and reopened in 2002. Everything was redesigned with visitors in mind. There's a visitor centre and exhibition building – and of course you're welcome to try the lift for yourself (but you'll need to BYOB – bring your own boat!).
If you're thinking of bringing a group to the area for the Northwich festival or to any other of our world class attractions, and if you are looking for the ideal indoor or outdoor group dining experience to thrill and entertain your guests, Hog Roast Northwich has the answer.